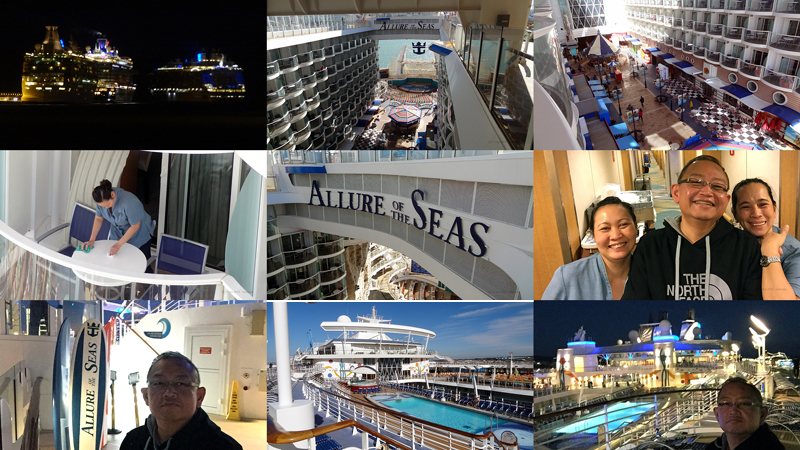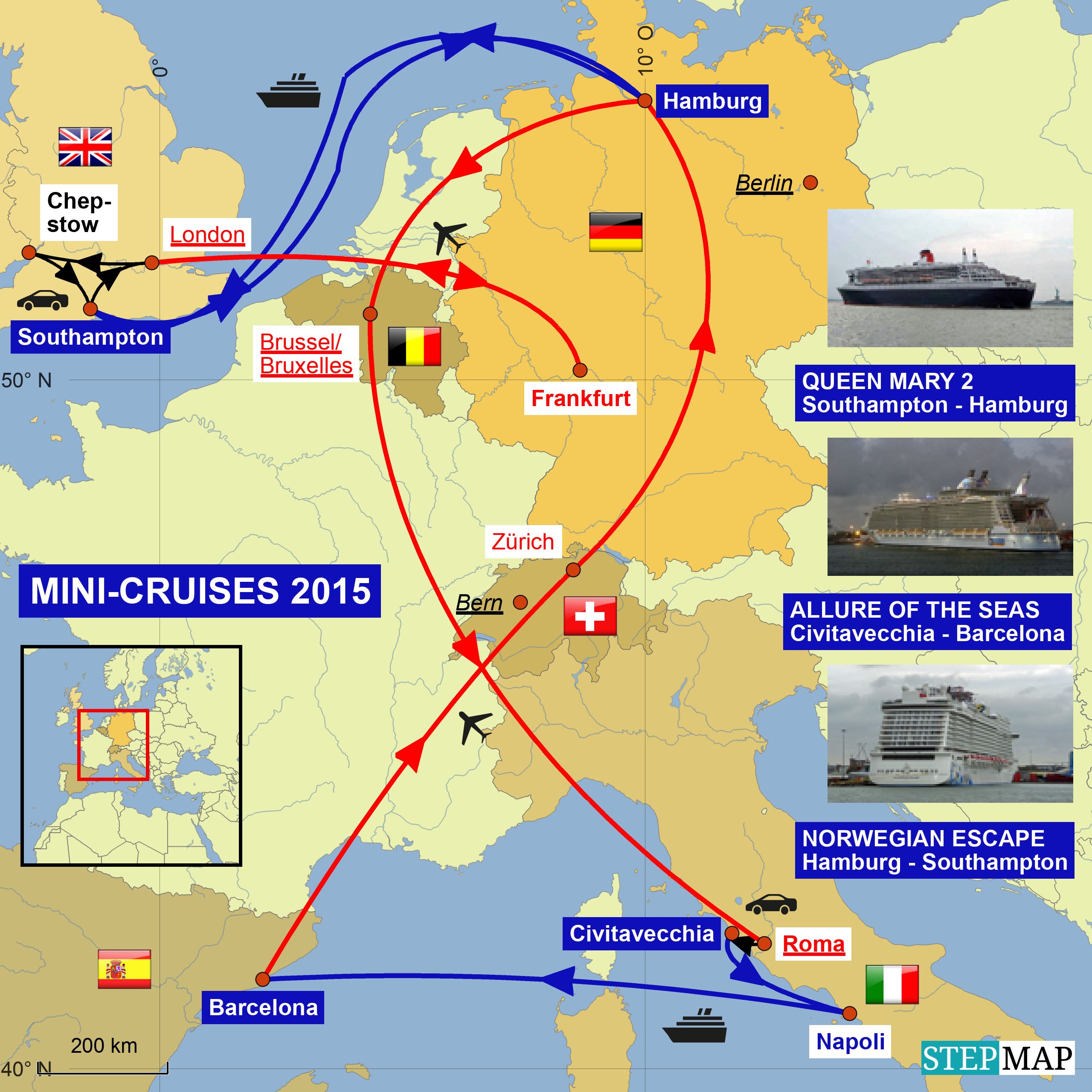 05:15 Uhr ging es in den Hafen. Wie zuvor ausgekundschaftet: das Hafentor ist für Fußgänger geöffnet.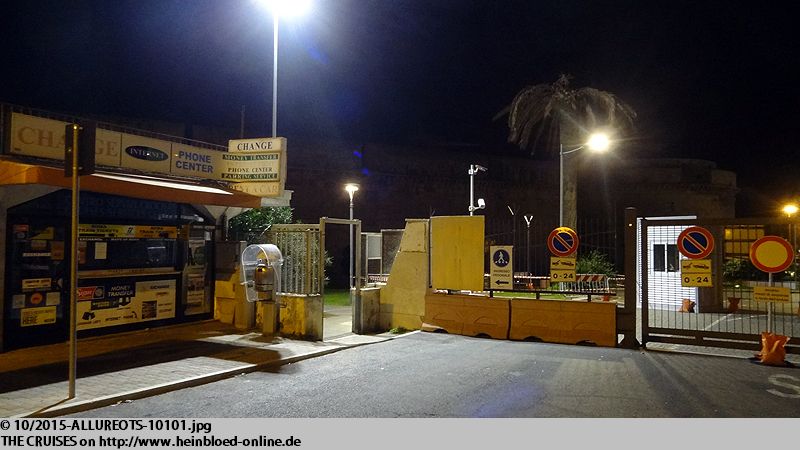 05:15 hrs I went into the port. As already researched: the port gate was open for pedestrians.

Only much later, when it was bright, I saw the splendor that awaited a shipspotter this morning.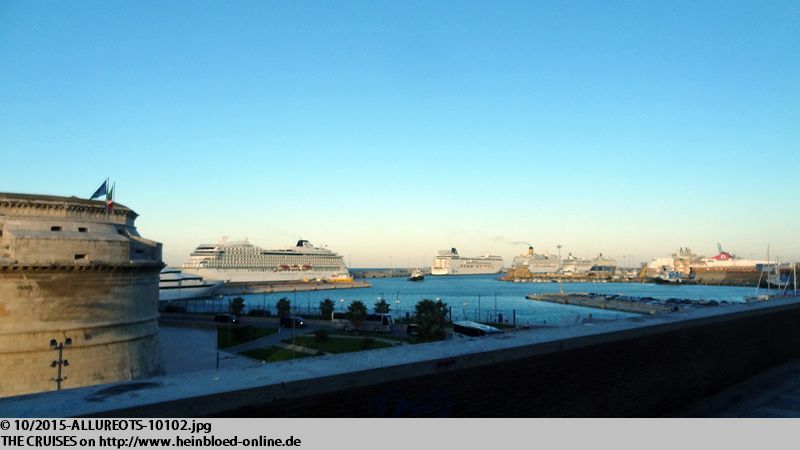 Erst sehr viel später, als es hell ist, sehe ich die Pracht, die einen Shipspotter heute Morgen erwartet.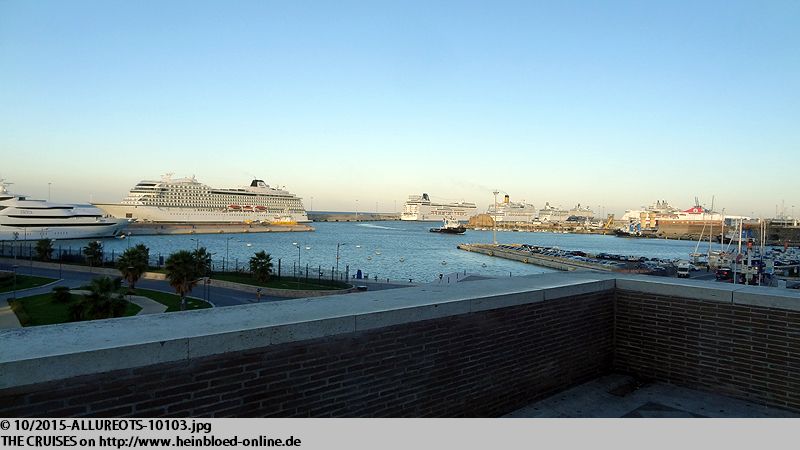 Someone in the forum wanted to spend his day in a self-service laundrette in Civitavecchia, Italy. I found one. And even near the port gate.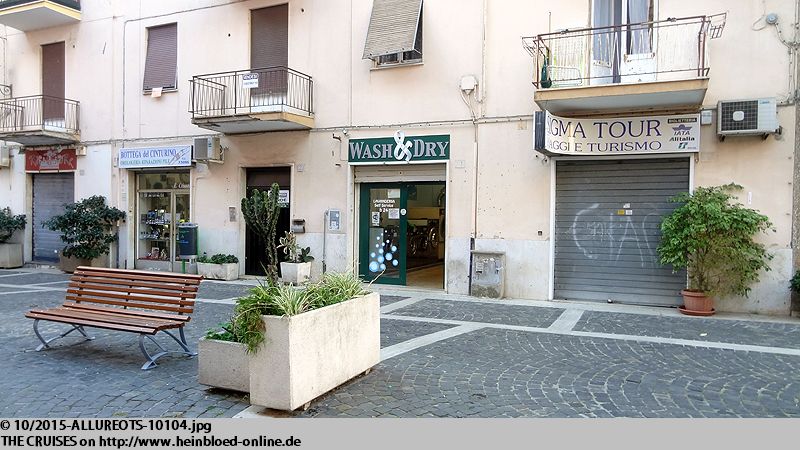 Irgendjemand im Forum wollte seinen Tag in Civitavecchia in einem SB-Waschsalon verbringen. Ich habe einen gefunden. Und sogar in der Nähe des Hafentors.
Die erste, die heute Morgen eintrifft ist MEIN SCHIFF 3.

The first, which arrived this morning was MEIN SCHIFF 3.

VIKING STAR was following. We last saw her after the NORWEGIAN JADE 2014 (2) trip in Venice-Marghera at the Fincantieri shipyard. When taking pictures, someone disturbed me. We were informed that we probably chose the wrong suitcase, and we were asked to drive back to the ship to exchange the bags. We would have booked her for this season, but to pay for the entire cruise two years ahead, I found it very violent. If we had known then that Cherryl, whom we know from NORWEGIAN SPIRIT 2013, would switch to VIKING STAR, we might have done so. We invited her to lunch in Civitavecchia. Unfortunately, her schedule did not allow it, so we could only send her a greeting. Too bad: we never forgot her excellent service at the NORWEGIAN SPIRIT 2013! What I was particularly pleased about: the captain has especially turned on the lights for me.

Danach folgt die VIKING STAR. Zuletzt haben wir sie nach der
NORWEGIAN JADE 2014 (2)
-Reise in Venedig-Marghera in der
Fincantieri Werft
gesehen. Beim Fotografieren wurde ich gestört. Uns wurde mitgeteilt, dass wir wohl den falschen Koffer mitgenommen und wir wurden gebeten, wieder zum Schiff zu fahren, um die Koffer auszutauschen. Wir hätten sie ja für diese Saison gebucht, aber zwei Jahre vorher schon die gesamte Cruise zu bezahlen, fand ich doch sehr heftig. Wenn wir damals gewusst hätten, dass Cherryl, die wir von der
NORWEGIAN SPIRIT 2013
her kennen, auf die VIKING STAR wechseln würde, hätten wir es vielleicht gemacht. Wir haben sie zum Mittagessen in Civitavecchia eingeladen. Aber leider lässt es ihr Dienstplan nicht zu, so dass wir auch ihr nur einen Gruß zukommen lassen können. Sehr schade: ihren tollen Service damals auf der
NORWEGIAN SPIRIT 2013
vergessen wir nie! Worüber ich mich besonders gefreut habe: der Kapitän hat extra die Festbeleuchtung für mich eingeschaltet.
Danach folgt die VISION OF THE SEAS.

Then VISION OF THE SEAS followed.

And then finally ALLURE OF THE SEAS came in.

Und dann kommt endlich die ALLURE OF THE SEAS.
Zuletzt habe ich sie in Fort Lauderdale gesehen, als wir mit der
EURODAM 2014
unterwegs waren.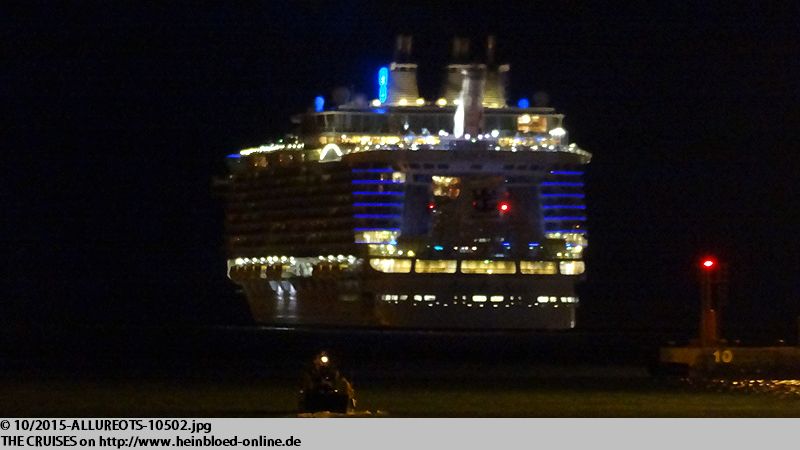 It was in Fort Lauderdale, FL the last time I saw her. We were sailing on EURODAM 2014.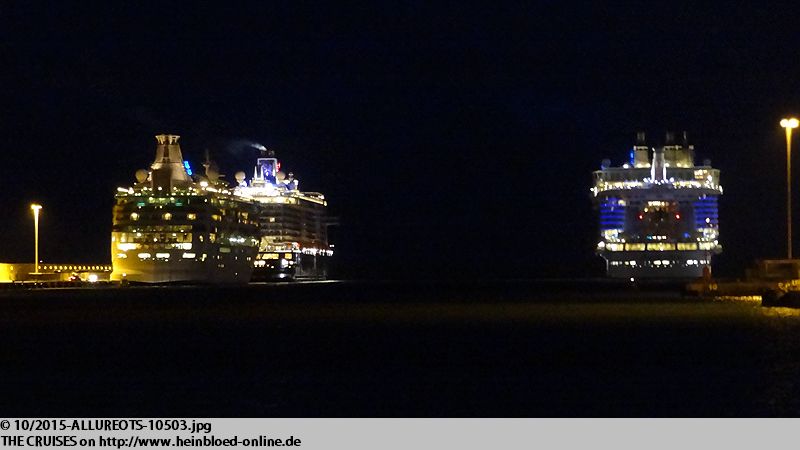 Leider von mir unbemerkt: Sie hat zuvor schon auf dem Meer gedreht und ist rückwärts in das Hafenbecken eingefahren.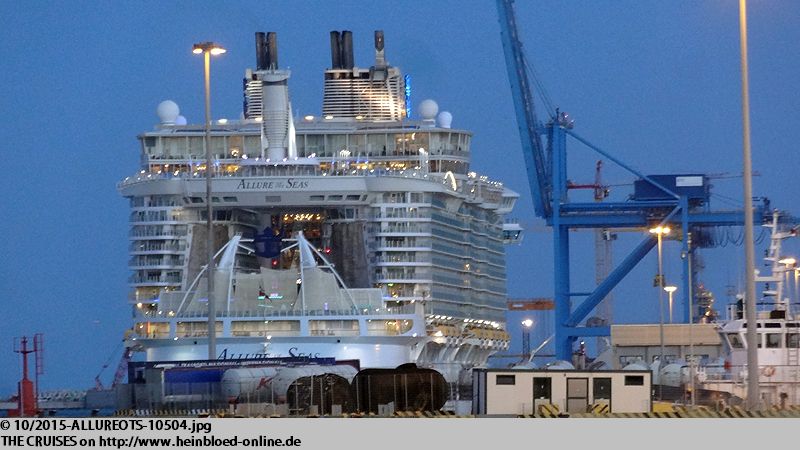 Unfortunately, unnoticed by me: She previously turned on the sea and retracted backwards into the harbor.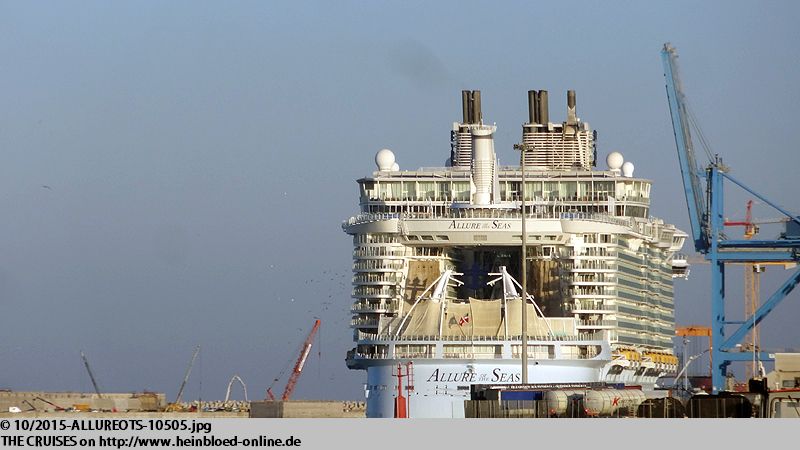 Danach folgt die MSC SINFONIA.

Right after that MSC SINFONIA followed.

Last but not least, COSTA FAVOLOSA came. At this time, my hips hurt from three hours of standing. I was stiff now like a board. I was tired too and most of all I was cold.

Last not least kommt noch die COSTA FAVOLOSA. Zu diesem Zeitpunkt tun mir von drei Stunden Stehen die Hüften weh. Ich bin mittlerweile steif wie ein Brett. Müde bin ich auch und vor allem ist es mir kalt.
Zurück im
Hotel Alibrandi Palace
.Wenn ich der Aussagekraft der ARD-Telenovela "
Rote Rosen
" (Man hatte als (Ex-)Arbeitsloser sonst ja nichts zu tun...) Glauben schnenken darf, ist ja Argan-Öl eines der teuersten Öle, die es gibt. Und die Pommes Frites darin gebacken, sollen ja besonders lecker sein. Vielleicht hätten sie besser Pommes Frites servieren sollen. Denn das Früshtück war zwar italienisch authentisch, aber trotzdem enttäuschend. Die Italiener müssen doch eigentlich schon längst an Diabetes ausgestorben sein. Vor allem: welcher gute Italiener, der etwas auf sich hält, serviert
Nespresso
???
" style="height: 290px; width: 495px;">

Back in the Hotel Alibrandi Palace. If I should believe the power of the daily soap "Red Roses" on German TV (you had nothing better to do as a (former) unemployed man...). Argan oil was one of the most expensive oils available. And deep-frying French fries in it should make them so delicious. Maybe they should serve better French fries. Because the breakfast was Italian authentic but still disappointing. Actually, the Italians should die of diabetes long ago. Above all: which good and proud Italian would serve Nespresso???

Since we did not think that the breakfast was acceptable, we walked over to have a fresh juice.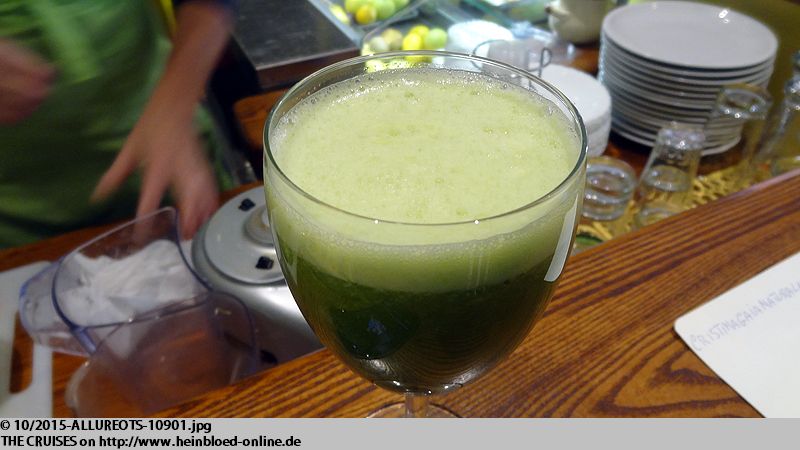 Da uns das Frühstück nicht zusagt, laufen wir kurzerhand nochmals los, um frischen Saft trinken.
Gestern haben wir ja die Tickets für den
Bus
gekauft. Wir freuen uns über das Schild "
Cruise Terminal
".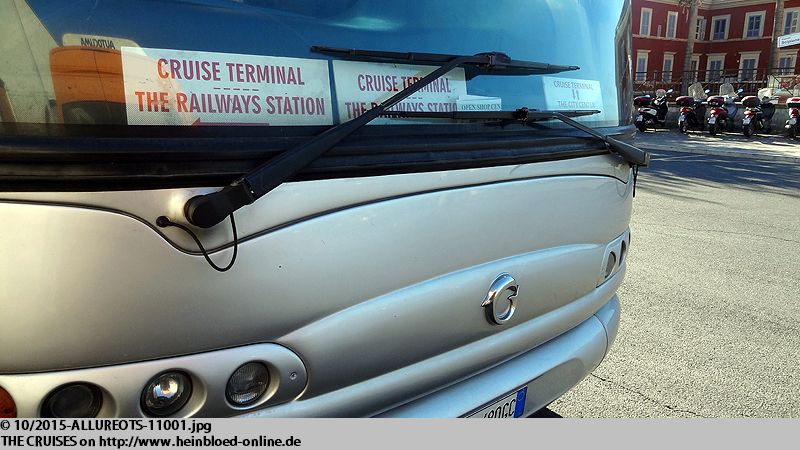 Yesterday, we bought our tickets for the bus. We were happy to see the sign "Cruise Terminal".

But we could save our way to the station. The bus would stop almost in front of the Hotel Alibrandi Palace, and it only went to the bus terminal for cruisers Largo Della Pace. and not to the "Cruise Terminal".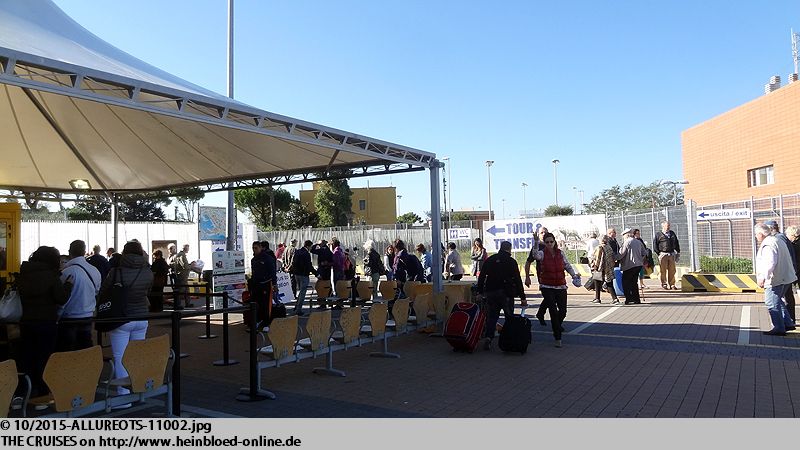 Aber wir hätten uns den Weg zum Bahnhof sparen können. Der Bus hätte fast vor dem
Hotel Alibrandi Palace
gehalten und er fährt nur zum
Kreuzfahrer-Busbahnhof Largo Della Pace
und nicht zum "
Cruise Terminal
".
Hier werden eben auch Tickets für den
Bus zum Bahnhof
für 2,00 EUR (2015) angeboten. Man sieht sofort unsere Kofferanhänger von Royal Caribbean. Kurzerhand wird der Bus zur ALLURE OF THE SEAS angehalten, damit er uns noch mitnimmt. Wir müssen uns nicht in der langen Schlange anstellen, sondern werden direkt vor der Absperrung zum Bus zur ALLURE OF THE SEAS geführt. Der
Busbahnhof Largo Della Pace
gefällt mir. Nur die Lage finde ich echt unvorteilhaft.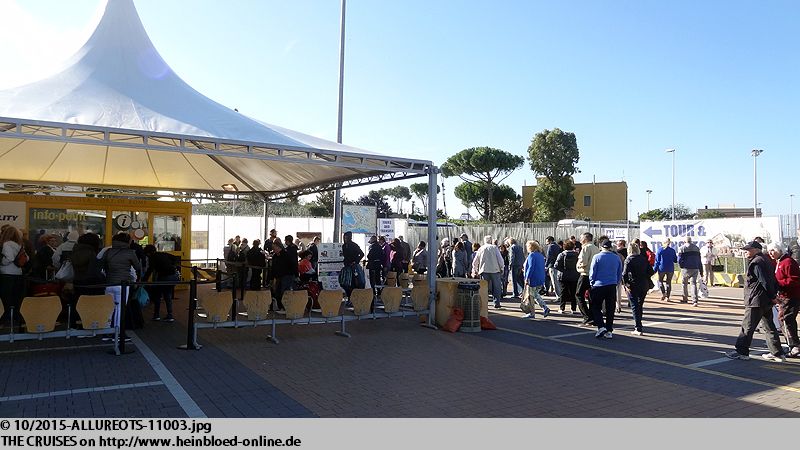 Here, tickets were also offered for the station-bound bus for 2.00 EUR (2015). They immediately identified our luggage tags from Royal Caribbean. Without further ado, the bus was stopped for ALLURE OF THE SEAS. So that he could take us along. We did not have to line up in the long queue. We were led to the bus for ALLURE OF THE SEAS just in front of the barrier. I liked the bus terminal Largo Della Pace. Only the location, I found really unfavorable.

Finally, I saw with my own eyes what I only read in a few forums so far. The transfers for 20.00 EUR (2015) to the Fiumicino Leonardo da Vinci airport or Rome Termini station from CivitaTours actually existed.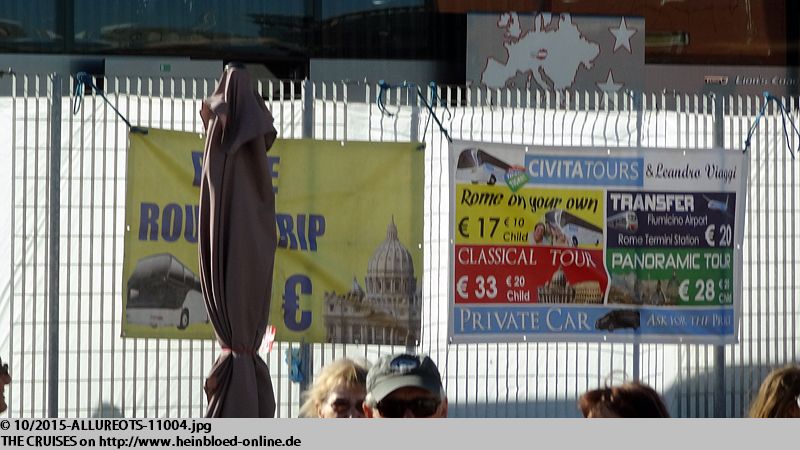 Endlich sehe ich mal mit eigenen Augen, wovon ich bisher nur in einigen Foren gelesen habe: Die
Transfers für 20,00 EUR (2015) zum Flughafen Fiumicino Leonardo da Vinci oder zum Bahnhof Rom Termini von CivitaTours
gibt es tatsächlich.
Die Einschiffung läuft echt klasse. Civitavecchia ist neben Barcelona zweiter Einschiffungshafen. Kaum Schlangen im Festzelt vom Pier 25. Ich darf direkt zur Schlange für Platinum Gäste, wobei ich immer noch keine Ahnung habe, wie ich es geschafft habe, Platinum Gast bei Royal Caribbean zu werden. An Bord angekommen bin ich begeistert. Eine Rolltreppe im Schiff führt uns direkt vom Sicherheitsbereich zum öffentlichen Passagierbereich. Drinnen werden wir mit einem Drink begrüßt. Sind wir wirklich bei Royal Caribbean? Denn auf der
QUANTUM OF THE SEAS 2014
war ja die Einschiffung eine Katastrophe: mit Tablets, denen der Strom ausging und neue RFID-Gepäckanhänger. Aber hier lief alles klassisch und zuverlässig.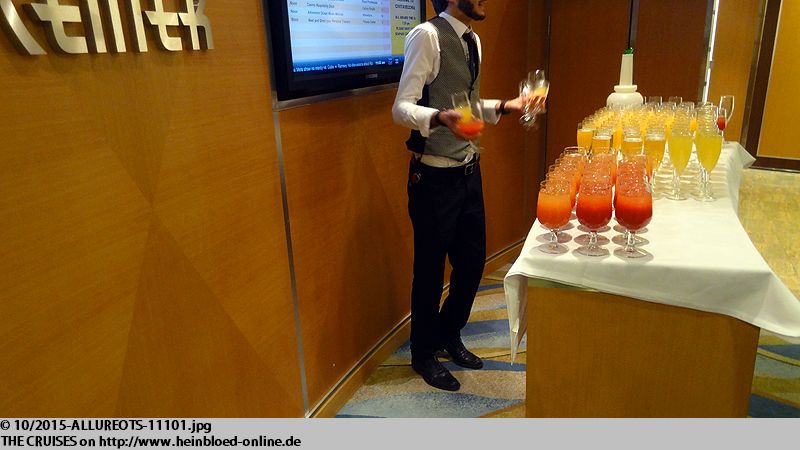 The embarkation worked really great. Civitavecchia was beside Barcelona, Spain, second embarkation port. Hardly any queues in the party tent of Pier 25. I was allowed going straight to the line for Platinum guests, though I still had no idea how I managed to become a Platinum Guest with Royal Caribbean. I was thrilled to arrive on board. An escalator in the ship took us directly from the security area to the public passenger area. Inside we were welcomed with a drink. Were we really with Royal Caribbean? After all, the embarkation for QUANTUM OF THE SEAS 2014 was a disaster: with tablets that ran out of electricity and new RFID luggage tags. But here, everything was classic and reliable.

All stands were set up here. Here you could reserve tables for the specialty restaurants and book beverage packages.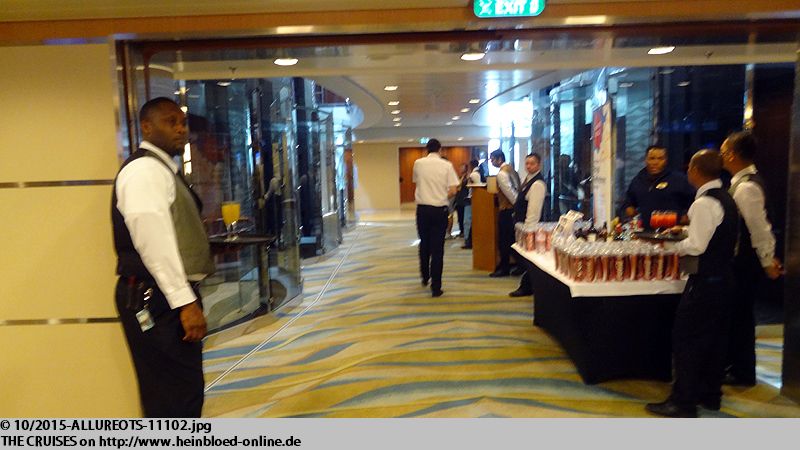 Alle Stände sind hier aufgebaut. Man kann hier Tische für die Spezialitätenrestaurants reservieren und noch Getränkepakete buchen.
Auch kann man hier direkt Tickets für die Shows buchen.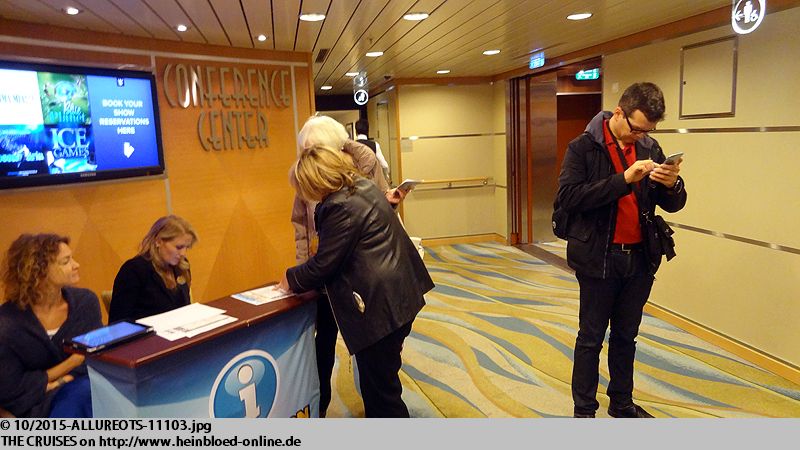 Here, you could also book tickets for the shows.

Although Civitavecchia was only a transit port for most guests, the cabins remained closed. We, therefore, walked around. We did not stay in the solarium, as it was not covered, as on QUANTUM OF THE SEAS. It was too cold, and it was too breezy for us. The ship was imposing for sure. A walk through Central Park. None of the restaurants and shops could be reached dry in the rain. Umbrellas were also available to borrow.

Obwohl Civitavecchia für die meisten Gäste ja nur ein Transithafen ist, bleiben die Kabinenkomplexe geschlossen. Wir laufen daher herum. Im Solarium bleiben wir nicht, da er nicht geschlossen ist, wie auf der QUANTUM OF THE SEAS. Es ist zu kalt und es zieht uns zu sehr. Das Schiff ist auf jeden sehr beeindruckend. Einmal durch den Central Park. Keiner der Restaurants und Läden kann man bei Regen trockenen Fußes erreichen. So stehen auch Regenschirme zum Ausleihen bereit.
Als wir merken, wie leer das Windjammer Café war, gehen wir schnell essen. Die meisten Gäste sind ja heute in Rom unterwegs. Insgesamt ist das Essen in Ordnung. Nichts aufregendes. Man wird halt satt.

When we realized how empty the Windjammer Café was, we went for a quick meal. Most of the guests were traveling in Rome today. Overall, the food was okay. Nothing exciting. You would just become full.
Die anderen Reisen in diesem Blog/
The other voyages in this blog: